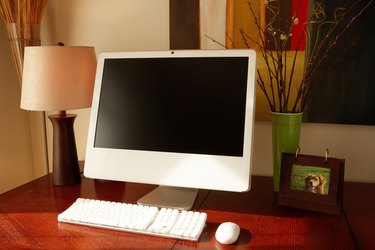 The LG LCD computer monitor, L1915S, frequently troubles consumers with its "Power Saving Mode." Often when attempting to turn on the screen, the monitor remains stuck in this mode. Thankfully, a few troubleshooting tips can help to remove your monitor from this mode and return it to its proper operation.
If your Computer is Running
Step 1
Remove the cables of any additional monitors that may be connected to your computer.
Step 2
Unplug the connection cable from the back of the LG monitor and the back of your computer. Re-insert the cable to see if the monitor is working.
Step 3
Remove the connection cable from the back of the monitor and your computer and replace the cable with a new one.
If the Standby LED Light is Lit
Step 1
Remove the monitor from your computer and test it on an additional computer to see if it works or is still defective.
Step 2
Replace the connection cable with a new cable.
Step 3
Turn off of your computer and consult your computer's user's manual. Determine the location of your graphics card, properly remove it, then return it to the computer to reset it. Turn the computer and monitor back on to test if the monitor is now working.