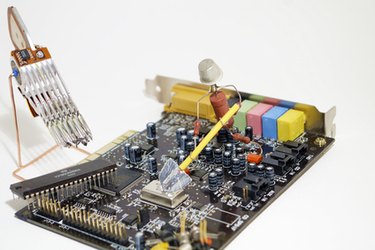 The sound card on your computer is what manages sound and allows the speakers to function. If you are having some strange noises coming out of your card or are in the middle of trying to troubleshoot sound problems, you can manually disable the sound drivers in the device manager. Disabling the software (drivers) and re-enabling them can sometimes clear up the problem. As long as the drivers are disabled, you will not be able to hear any sound out of your computer.
Step 1
Click "Start" then type "Device Manager" in the search (or "Run" bar if using XP) then hit "Enter."
Step 2
Locate the "Sound, video and game controls" option from the left hand list and double-click on it to expand the device list.
Step 3
Right-click on your sound card (it will be listed under the "Sound, video and game controllers" menu) and select "disable."
Step 4
Click "Yes" when asked to confirm that you wish to disable your drivers.