Facebook allows you to post and share status updates with your friends and family in your network. There is no text editor built-in to Facebook to allow you to alter the way text appears. However, if you wish for some text to appear as superscript, you can use an online superscript tool to convert the text. The superscript text then appears higher and smaller than the normal line of text in Facebook.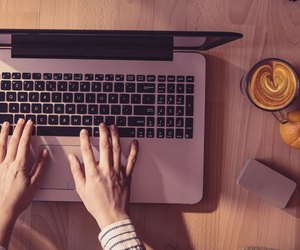 credit: Grosescu Alberto Mihai/iStock/Getty Images
Step
Open any Web browser and navigate to Txtn.us/tiny-text for a free online superscript converter, which allows you to create superscript text for Facebook.
Step
Type the text that you wish to appear as superscript in the top text box.
Step
Click the "Submit" button.
Step
Highlight the text in the bottom text box and press "Ctrl" and "C" simultaneously to copy the text.
Step
Log in to your Facebook account.
Step
Click "Status" under "News Feed" on the Facebook homepage.
Step
Type the text you wish to appear at the normal size.
Step
Position the mouse after your text and press "Ctrl" and "V" simultaneously to paste your superscript text.
Step
Press "Enter" to display the text on Facebook.