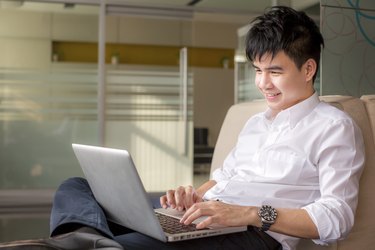 Microsoft's Windows 7 and Windows 8 operating systems let you add input keyboards for many languages without having to use the Windows install disc. Once you enable the Korean input keyboard, you can type in Korean in most programs, including Web browsers and email. You can also enable the option to use a visual keyboard, where you can see the key layout on-screen and click or type to create characters.
Windows 7
Step 1
Click the "Start" button and "Control Panel." Find the "Clock, Language, Region" heading and click "Change keyboards or other input methods" under it.
Step 2
Click "Change Keyboards" under the Keyboards and Languages tab in the window that pops up.
Step 3
Click "Add..." under the General tab in the new window. Scroll down to "Korean" and click the plus symbol next to it. Click "Keyboard," then check the box next to the Korean keyboard you want to install.
Step 4
Click "OK." Click "OK" again in the "Text Services and Input Languages" dialog box, and "OK" in Region and Language window.
Step 5
Click on "EN" in the task bar, then choose "KO Korean (Korea)" to change to the Korean keyboard.
Windows 8
Step 1
Swipe in from the right edge of the screen or point to the lower right corner of the screen with your mouse. Select "Settings," and then choose "Change PC Settings."
Step 2
Tap or click the "Time and Language" option, and then select "Region and Language."
Step 3
Tap or click "Add a Language." Select "Korea" from the language options pull-down menu to select this language.
Step 4
Click or tap "Options," and then select "Add a Keyboard." Click or tap your preferred keyboard layout to use this input method.