One of the major benefits of owning an iPhone is the ability to check several email inboxes at once using the mail application. After adding a Hotmail address to your mailboxes, you can then fetch emails and even download most attachments to view directly on your iPhone. While you may have limited capabilities depending on the type of attachment you've been sent, it's easy to quickly view attached files using your iPhone.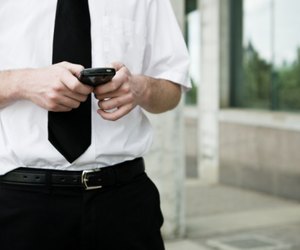 Step
Open your Hotmail account by touching "Mail" and selecting your Hotmail account. If you haven't yet added your Hotmail account to your iPhone, go to "Settings," then "Mail, Contacts, Calendars." Add your account by touching "Add Account," then "Other" and entering your email address and password.
Step
Select the email that has an attachment by looking for an email that has a paper clip icon beside the email subject, and touching it to open.
Step
Swipe your finger upward to scroll to the bottom of the message, where you can see the attachment. Some attachments are located in the email body as a small icon, while other attachments simply show a stock icon for the specified attachment type.
Step
Tap the attachment to open it. As of the time of publication, iPhones can support the following attachment types: .jpg, .doc, .docx, .htm, .html, .pdf, .txt, .xls and .xlsx, which are some of the most commonly used attachment types. Tapping the attachment opens it fully in a new window.
Step
Touch the outgoing message icon at the top of the screen to cause a menu to pop up from the bottom of the screen. The menu gives options for interacting with attachments, such as "Open In," "Save to Phone" or "Print." Tap the option you'd like to use.