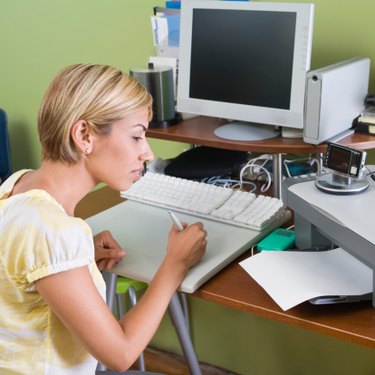 Transferring photos from your Sony camera to a computer is a good way to back them up. While they are on your computer, you can also edit them or mail them. To get the photos onto the computer, you've got several options depending on your particular Sony camera. Most cameras come with a software disc that can aid in transferring photos, but if you don't have this disc you can still transfer the images to your computer using the USB cable that fits your camera.
Download Photos Using Windows
Step 1
Insert the camera end of the USB cable into the camera, and place the other end into a USB port on your computer. Ensure that the camera is turned on and that the cable is plugged in securely.
Step 2
Check the menu on your Sony camera to ensure that it is set up for a computer connection. The menus will differ depending on the style of camera you own. Check the user's manual for settings specific to your camera.
Step 3
Scroll through the pop-up that appears when the camera is plugged into the computer. Select "Scanner and Camera Wizard" from the options to open the Wizard.
Step 4
Follow the wizard to select the images you wish to download. You have the option to rotate the images and select the area on your computer where you wish to download them.
Download Images Using Mac
Step 1
Connect the USB to the camera and the computer, and turn the camera on.
Step 2
Open iPhoto to download the images onto your computer. The wizard will give you the option to name the group of photos that you are moving, and to choose where the download will occur.
Step 3
Select "Import" once you've named the photo group.
Tip
Using the software that came with your camera is another option for downloading the images onto the computer, and it may provide you with more options such as photo editing.