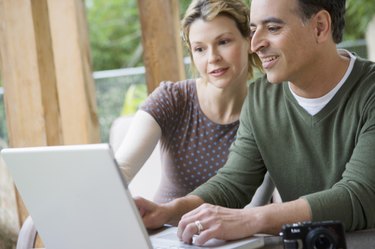 Some Nikon digital cameras feature removable media cards that can be taken out of the camera and plugged into an applicable port on your computer. These card readers, however are not bundled with your Nikon camera, and thus require an additional purchase. Your Nikon camera can be plugged directly into your computer with the supplied USB cord in order to download pictures from your camera to your hard drive. After the pictures have been downloaded, they can be deleted from your camera's memory card to make room for more pictures.
Step 1
Open the connector door on the side of your Nikon camera. This will typically be located on the left side of the camera. The door will be marked with the USB icon, which resembles a three-pointed arrow.
Step 2
Insert the small end of the USB connector cable into the port on the camera. The cable will fit in only one orientation, so rotate the cable if it does not fit. Do not force the cable into the camera's port.
Step 3
Plug the other end of the USB cable into your computer's USB port. Your computer will automatically recognize the camera and open a window asking what you would like to do with the media (photographs) on the camera.
Step 4
Highlight the "Copy pictures to a folder on my computer" option. It should be the first one in the list. Click the "OK" button. Windows will prompt you for the location of your folder or allow you to create a new folder. After you have chosen the folder's name, click "OK."
On Max OS X, the camera will mount like an external drive. Access the camera in Finder, highlight the image files you want to copy and drag them to a location on your computer.
Step 5
Click the "Safely Remove Hardware" icon in the system tray. Choose the "Safely remove USB Mass Storage Device" option from the menu.
On Mac OS X, click the "Eject" button in the Finder window next to the camera icon.