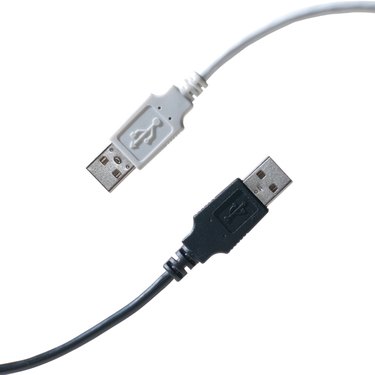 Your Windows 8 computer has a native Photos app designed to help you download pictures from any digital camera, including all Canon models. If your computer doesn't recognize your camera, take a moment to troubleshoot the connection and, if necessary, install new drivers and software. Once your computer recognizes your camera, download pictures using the Photos app.
Troubleshoot Your Camera Connection and Drivers
Step 1
Check your USB cable connection and reconnect your camera to your computer. Most Canon cameras have mini USB ports into which you connect the small end of a provided USB cable. Depending on your camera model, you may have to open a rubberized or plastic cover to reveal this port. Check the camera's documentation for more information on connecting the camera to a computer.
Step 2
Press "Windows-X" and click "Device Manager." Look for your camera on the list of devices in Device Manager to determine whether the computer recognizes the camera when it's connected. If it's not listed, check for new drivers and software.
Step 3
Visit the Canon support website (link in Resources) and select whether you're using a consumer or professional camera. Enter your model name in the Search field. Select your camera on the list of search results and click the "Go" button to visit the camera's Drivers & Software page. Select your operating system, download the provided file and open it on your computer to install the updates. You may be prompted to restart your computer after installation completes.
Downloading Pictures Using the Photos App
Step 1
Click the "Photos" tile on the Windows 8 Start screen to launch the Photos app.
Step 2
Right-click anywhere within the app and select "Import" on the pop-up menu.
Step 3
Select your Canon camera from the list of available devices.
Step 4
Select the pictures you want to download or click "Select All" to download all the pictures from the camera.
Step 5
Click "Import" to download the selected pictures onto your computer.
Tip
Pictures are automatically saved in a new folder within the Pictures folder on your computer. The new folder is labeled with the date you downloaded the pictures from your camera.
If you have a memory card reader on your computer, you can also remove the memory card from your camera and insert it into your computer. A pop-up dialog appears on your computer prompting you to select which program you want to use. Select the Photos app and proceed through the steps above to download your pictures off of the card and onto your computer.
Some Canon cameras come with a CD or DVD containing ImageBrowser EX software. If you've installed this software on your computer, you can also use it to download pictures from your camera. Connect your camera to your computer, open ImageBrowser EX, click "Import Camera Settings" in the top-left corner and select "Import Images" or "Import Images From Memory Card." Click "Download Images" to start downloading pictures using the default settings. Alternatively, if you want to customize the download settings, click the "Preferences" button.