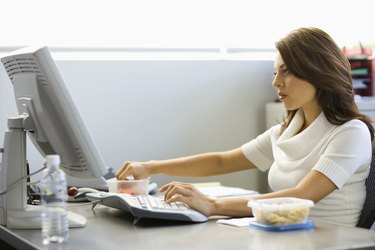 PDF files, or portable document format files, are already compressed and make for easier emailing of large documents. However, pictures, text and other aspects, including high page counts, increase PDF file size, making it more difficult to send files through email or post them online for downloading. There are a few different ways to downsize PDF files even more. Use zip compression software, PDF readers or Adobe Acrobat to compress a PDF file.
Zip Compression
Step 1
Right-click on the PDF file.
Step 2
Navigate to "Send To," and click on "Compressed (Zip) Folder."
Step 3
Click "Yes" in the dialog box if you want to use your computer's default zip software to compress the PDF. If you want to use third-party compression software, click "No." The zipped PDF will appear in the same folder as the original document.
JPEG Compression
Step 1
Right-click on the PDF file, and choose a PDF reader from the list. The file will open in the reader you have installed.
Step 2
Go to "File" > "Export," and navigate to "Image."
Step 3
Choose "JPEG." Name the file, and press "Save" to save the file in lossy compression as a JPEG. Lossy compression makes the file smaller but diminishes the quality.
Adobe Acrobat
Step 1
Right-click on the PDF file, go to "Open With," and select "Adobe Acrobat."
Step 2
Go to "Advanced," and select "PDF Optimizer." Click the "Audit Space Usage" button in the upper right corner, and view the number of bytes in the PDF file. Locate the title under the "Description" header that has the largest number of bytes, then click "OK."
Step 3
Highlight "Images" in the list on the left. Under "Color Images" and "Grayscale Images," change the number in the box next to the "Bicubic Downsampling" drop-down menu to 72 or 96 pixels. These are ideal sizes for web viewing.
Step 4
Click "OK" to downsize the PDF.