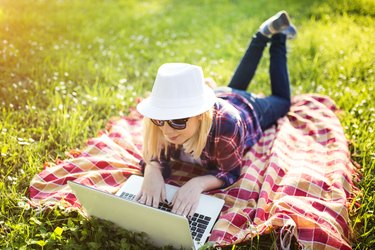 Microsoft Installer (MSI) files are packages created by programmers to make the install process easier for users. Users double-click the MSI file, and the Windows wizard automatically guides the user through the installation process. Programmers use this process to make the packaging and distribution of applications easier. MSI files need administrator rights to install on Windows 7, so installing these files takes a few extra steps on the operating system.
Step 1
Double-click the "[User's] Computer" icon on the desktop to open Windows Explorer.
Step 2
Navigate to the location of the MSI file. If it is on a CD or DVD, right-click the drive in the Explorer window and select "Open."
Step 3
Right-click the MSI file and select "Copy." Go back to the Windows Explorer main window and create a folder on the C: drive named "MyMSI." Open the folder and paste the MSI file into it by right-clicking and selecting "Paste."
Step 4
Click the Windows Start icon in the lower left corner of the desktop and select "All Programs." Choose "Accessories" and right-click on the "Command Prompt" icon. Choose "Run as Administrator" to open the DOS command prompt with administrator rights.
Step 5
Type "C:\Windows\System32\msiexec.exe -i C:\MyMSI<filename>.msi" into the command prompt, substituting with the name of the MSI file to run the file copied in Step 3.