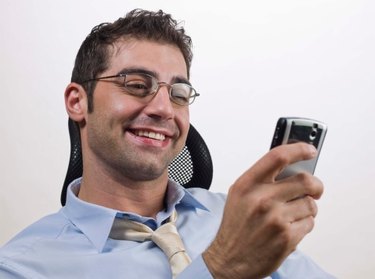 Many touch screen cellphones and MP3 players offer digital drawing programs. These programs use the device's touch screen, allowing you to draw or paint using your finger as the tip of a pen. If you have a touch screen tablet or monitor, download a computer program designed for touch screen controls, such as Corel Paint It! Touch, You Paint It or Photofilter. Most programs offer the same basic image-creation tools, including color swatches and paint brushes.
Step 1
Download a drawing program appropriate to your device. If you are using a cellphone or iPod touch, look for these programs at the "App Store." If you are using a computer, download a touch-screen program from the Internet (see Resources section for a list of touch screen-compatible programs).
Step 2
Press or tap the menu button, then press or tap the icon of the program. If you are using a mobile program, click on the "Instructions" button. After reading the instructions, tap the "Menu" button.
Step 3
Tap or press the "New" button within the program.
Step 4
Tap the appropriate tool in the tool bar, then tap the desired color swatch. For example, tap the Brush tool, then a green color swatch.
Step 5
Slide your finger across the touch screen to add color to the screen. Apply additional pressure to the screen to create a darker, thicker line.
Step 6
Add different colors to the drawing. Click on a different color swatch and draw using your finger. Use a different drawing tool by clicking on the tool, then drawing with your finger again. Continue drawing until you are finished with your creation.
Step 7
Use the unique tools offered by your program. Zoom in or out of the canvas by pressing the Zoom tool. Determine the exact color of an area by clicking on the Eyedropper tool, then clicking on the area to copy the color. Select a drawing tool and draw with that color.
Tip
Purchase a stylus designed for touch screens if you prefer to draw with a digital pen.