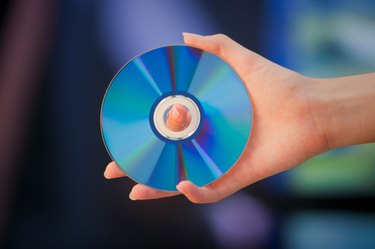 A DMG or ".dmg" file is a Macintosh disk image, the equivalent of an ".iso" file in Windows. These files create virtual versions of physical disks. DMG files are very common in the Mac software world, with most Web-downloaded software coming in DMG form. Like a physical drive, a disk image must be mounted to access the files on it. To edit the files on a disk image, it must be "read/write" rather than "read only." Making the conversion is easy.
Step 1
Mount the DMG file by double-clicking on it. A new drive icon will appear in the Finder.
Step 2
Drag files to the new drive icon to add them to the disk image to add them to it, or drag files from the virtual drive to the trash can to remove them. If you get an error message, the DMG may be read-only. In this case, you will need to re-save it in "Read/Write" mode.
Step 3
Double-click on your "Applications" folder and then on the "Utilities" folder inside it. In "Utilities," double-click on "Disk Utility."
Step 4
Click on "File" and "Make Image." In the dialog box, select the virtual drive that mounted when you double-clicked the original DMG file. Check the box next to "Read/Write" and click "Okay." You will be asked to choose a file name and destination for the new image file.
Step 5
Unmount the original file by dragging the virtual drive to the trash or clicking the "Eject" icon next to its name in the Finder. You may delete or put away the original DMG file.
Step 6
Mount the new read/write-enabled DMG file by double-clicking on it. Add or remove files by dragging them to or away from the virtual drive icon. When you have finished editing the DMG file's contents, click "Eject" or drag it to the trash to unmount it. The DMG file will now contain the edited files of your choice.