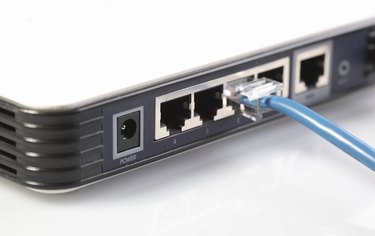 An AT&T 2Wire router can function as a DSL modem or wireless router, so you can use it with any type of U-verse Internet service. 2Wire provides convenient Web-based configuration to make it easy to enable and configure your new router in minutes. The router's Universal Plug and Play, or UPnP, feature allows you to connect different types of network devices and share files across all of them.
Step 1
Plug one end of an Ethernet cable into one of the router's LAN ports. There are usually three to five of these ports located on the back of the router. Plug the other end of the cable into the Ethernet port on your computer.
Step 2
Access the gateway user interface by entering "http://gateway.2wire.net" (without quotes) into your Web browser's address bar, and then pressing "Enter."
Step 3
Select the "Home Network" tab to open a list of the devices on your network. To turn on the UPnP feature, click "Access Shared Files," and then choose "Enable." You can now access your files from any computer or mobile device connected to the network.