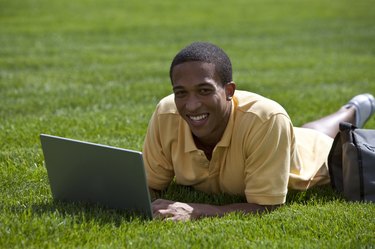 When moving an existing Vista PC from one location to another, or configuring Vista for the first time after installation, it is sometimes necessary to change the Vista TCP/IP network configuration from a Static IP address to a Dynamic, or DHCP, IP address in order to be compatible with the new network location. Dynamic IP addressing is most common with mobile devices such as laptops and tablet PCs. Desktop PCs may also require dynamic IP address configuration if the network's IP addresses are centrally managed using DHCP. If you cannot connect to a new network after moving your laptop or desktop PC, changing from a static to dynamic IP address configuration may resolve the connectivity issue.
Step 1
From the Vista desktop click "Start," "Control Panel," then select "Network and Sharing Center." Click "Manage Network Connections," then right click on the network connection listed that you use to connect to the local network and Internet. Click "Properties" in the drop-down menu.
Step 2
Click Continue when Windows asks for your permission to continue.
Step 3
Scroll down the list of protocols and client applications and highlight Internet Protocol Version 4 (TCP/IPv4) and click "Properties."
Step 4
Select the "Obtain an IP address Automatically" radio button and the "Obtain DNS server address Automatically" radio button.
Step 5
Now click "OK," and exit back to the desktop.
Step 6
Test to see if you can now connect to the local network and Internet by opening a Web browser and connecting to a website. If you are not able to connect to the website, then reboot and try again.
Tip
If after following the procedure above you are still unable to access the Internet or local area network (LAN), click "Start," then in the Search box type "CMD." Right click the Command Line icon that appears in the left pane and click "Run As Administrator." When the command line window appears type "ipconfig /all" and press "Enter." In the output displayed, find the network connection that you are using to connect locally and to the Internet and check the IP addresses listed. If the IP address assigned starts with 169.254. or 0.0. then the network to which you are connecting does not have DHCP service available, DHCP service is not working or DHCP is not available on the port or wireless AP to which you have connected. Other possible reasons why your PC may fail to connect include MAC address filtering (common with wireless connections). If the IP address starts with something other than 169.254. or 0.0. then note the Gateway address listed and then on the command line type "ping gateway_address" (replacing "gateway_address" with the actual IP address of the Gateway as listed in the ipconfig /all output) and press "Enter." If you receive a reply, that means you can connect to local devices on your network. However, if you do not receive a reply then there may be an issue with your network adapter hardware or drivers that requires troubleshooting.