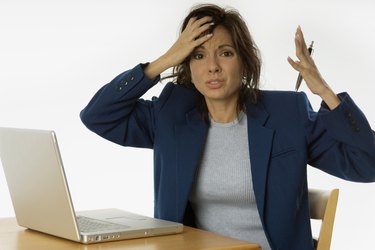 Pop-up blockers are browser extensions and plugins designed to prevent those annoying windows that open in your Web browser without your permission. If you're using the Firefox browser, you have access to an integrated pop-up blocker designed to prevent pop-up windows from appearing. Just enable it, and say goodbye to pop-up windows forever. Changes to pop-up blocker settings are made via the Preferences panel. Depending on your version of Firefox, this panel may be called the Options panel instead.
Enabling the Pop-Up Blocker
To enable the integrated pop-up blocker in Firefox 35, click the three-line "Menu" button in the top-right corner of the program and select "Preferences" to open the Preferences panel. Along the top of this panel are a number of tabs, one of which is labeled Content. Click the "Content" tab and place a check mark in the "Block Pop-up Windows" check box to enable the integrated pop-up blocker.
Understanding Pop-Ups and Pop-Unders
Most pop-up windows appear over the top of your current window, but others load under it. Although you may not realize these windows are there, the pop-up blocker in Firefox catches them, too. Not all pop-ups and pop-unders are bad, though. Some websites rely on them to present important content, so block pop-ups carefully. When the pop-up blocker in Firefox is active and it blocks a pop-up window, a banner appears at the top of the page reporting that a pop-up has been blocked. Click the "Preferences" button on this banner to adjust how Firefox handles pop-ups on the active website.
Adding Exceptions
The pop-up blocker in Firefox supports exceptions so that you can permit certain websites to load pop-ups. Add exceptions using the Content section of the Preferences panel. Click the "Menu" button, select "Preferences" and then select the "Content" tab. Click the "Exceptions" button and enter the URL of the website you want to permit to load pop-ups. Click "Allow" to add the URL to the Exceptions list.
Installing Third-Party Solutions
Several related third-party extensions are also available for use in Firefox (links in Resources). Extensions such as Adblock Plus, for example, block pop-up ads that appear within an active window rather than in a new, separate one. To install an extension in Firefox, click "Tools" on the main menu and select "Add-ons" to open the Add-ons screen. You can also get to this screen by clicking the three-line "Menu" button and selecting "Add-ons." Once you're in the Add-ons screen, click the "Extensions" tab and search for the extension you want to install.