Many models of wireless USB adapters manufactured by Linksys can be granted access to a wireless network by entering a PIN into the router's setup menu. Using this method provides not only the convenience of permanently connecting an adapter to the router, but also security, as you do not need to disclose the password to your network. With just a few clicks, you can enter the PIN and the user can be connected to your network.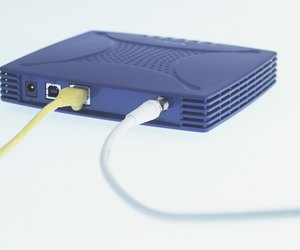 Step
Open the web browser of a computer already connected to the network.
Step
Enter the router's IP address into the address bar and press "Enter." By default, the IP address of all Linksys routers is "192.168.1.1."
Step
Enter your username and password, then click "OK" to log into the router. By default, the username should be left blank, and the password is "admin." If you have changed the username and password, enter your new username and password.
Step
Click the tab labeled "Wireless," then select "Wi-Fi Protected Setup" from the Configuration View section.
Step
Enter the PIN into the text box, then click "Register" to validate the wireless network adapter.