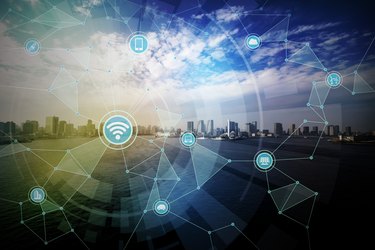 A hot spot is just one name for an area where wireless Internet is available and usually free. Some common places to find Wi-Fi hot spots are restaurants, coffee shops and hotels; some cities have it available in their downtown areas. Most people think of hot spots as being only for laptops, since laptops are highly portable. But desktops can connect to hot spots as well.
Step 1
Install a wireless network adapter. Adapters can come as cards, but some also come as USB devices that are easy to install by plugging right into an open USB port on your desktop computer.
Step 2
Move to a hot spot. Although this is not as easy as with a laptop, you can still physically move your computer to an area where a hot spot is located. An alternative would be to make a hot spot where your desktop is located by connecting your Internet service to a wireless router.
Step 3
Select the hot spot to which you wish to connect. A wireless network icon should be in the bottom-right side of the computer task bar. Click on the icon and you will see all available wireless networks. Click on the hot spot network you want to connect to and choose "Connect." Enter a password if one is required. In some cases, you may also have to open a Web page and accept a license agreement.