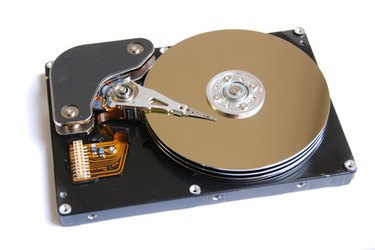 All data on an HP laptop may be erased by reformatting the computer's hard drive. Even though the process of backing up all data, reformatting the disk and then copying the data back to the hard disk may be tedious, it sometimes is the only solution. With time and frequent usage, a computer tends to slow down due to the cumulative effects of installing and uninstalling applications, moving data around and pest infestations. Reformatting will revert the computer back to its factory condition and eliminate all errors.
Step 1
Plug in the AC power adapter to the laptop. Switch on the computer. Wait for the operating system to load.
Step 2
Locate all hardware drivers for peripheral components. When the hard disk is reformatted, you may have to install the driver software for attached components.
Step 3
Back up your data. Click on "Start" on the desktop screen, then "All Programs" and "System Tools" under "Accessories." Scroll down on the list and click on "Backup." This will launch the Windows Backup and Restore Wizard; navigate through the interface using the "Next" or "Back" buttons. Select "Let me choose what to back up" and specify the appropriate directories and files. Finally, specify a backup location, such as a flash drive or a writable disk. Click "Finish" to start the process.
Step 4
Wait for the process to end and then label the backed-up data. If you are backing up to a CD or DVD, you may need multiple discs; labeling them will make it easier to restore the data after the reformat.
Step 5
Close all open programs and files and navigate to "System Recovery" by clicking on "Start" and then "All Programs." Scroll down and select "PC Recovery." This will launch the PC System Recovery Suite, which can be used in HP laptops and notebooks running on the Windows platform to reformat the hard disk and erase all data. Select the appropriate option from the "PC Recovery" screen and click "Next." At this point, the computer will restart automatically.
Step 6
Click "OK" on the "Welcome to PC Recovery" message. When the computer restarts and the operating system loads, the "Welcome to PC Recovery" message will be displayed. It will ask for a prompt.
Step 7
Select "System Recovery" from the System Recovery panel. This instruction will initiate the reformat process; wait for the hard disk to be completely formatted. When done, all data from the computer will be permanently and irretrievably erased.
Step 8
Restart the laptop. When the reformat is complete, the process will display a prompt and wait for an instruction. Click "OK" to restart the computer.
Step 9
Reinstate your data. Copy the backed up data to the hard disk and configure system data, such as location and date.