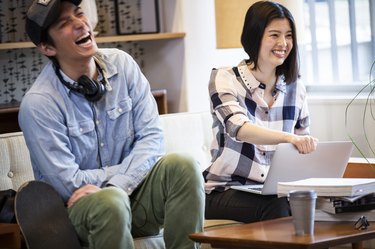 If your laptop is running slowly or encountering a number of errors; if you're looking to sell it without any of your data staying on it; or if you're just looking to clean it out so you can have a fresh system, you may want to reformat your laptop. Formatting a laptop restores the operating system to its original state, with as much storage space as possible available and without any bugs or modified settings that could cause the laptop to slow down. Learning when to format your laptop, and how to format a laptop properly is an important part of maintaining your computer. If you've lost the system install CD that came with your laptop, or if your laptop does not have the ability to read CDs or DVD-ROMs, do not fear. You can easily learn how to reformat a laptop without ever needing to open a disk drive.
Why Format a Laptop?
Formatting is the process of preparing a drive or drive partition for an operating system's use, and reformatting is the process of restoring a drive to a freshly formatted state. This is done by deleting all of the data on that drive or in that drive partition and then setting up a file system compatible with the operating system. While you can easily format a flash drive, external hard drive or secondary partition, it takes a series of steps to format a laptop completely. This is to prevent users from accidentally beginning a system format. For all intents and purposes, data deleted during the formatting process is erased forever. As a result, it's advised to back up any files you want to keep to an external source before beginning the process.
Formatting With Windows
You can format your Windows laptop through its settings menu by performing what is called a "System Reset." This will delete all files from the laptop while reinstalling your Windows operating system with its default settings intact. To do this, you'll need to access the Recovery menu. In Windows 8.1, open the Start menu, then click the gear icon to open the Settings menu. Click "Change PC Settings," followed by "Update and Recovery" and then "Recovery." Under the heading that reads "Remove everything and reinstall Windows," click the "Get Started" button and then follow the instructions. On a laptop running Windows 10, simply click the search box next to the Windows button, then type "Recovery." Click the result reading "Recovery Options - System Settings," then click the "Get Started" button under the "Reset this PC" heading. Select "Remove Everything." To fully format the laptop, click "Fully Clean the Drive." To clear only your files, click "Just Remove My Files." If the menu asks you to insert media, you'll need to insert a USB drive setup to act as Windows 10 recovery media. Click "Reset" to begin the process.
Formatting a Mac Laptop
To format a Mac laptop, begin by turning off the laptop. Turn on the laptop and wait until the startup sound plays, then press and hold the "Command" and "R" keys at the same time. When the Apple logo appears, release the keys, then connect to the internet via the menu that appears. Select "Disk Utility" from the menu, then select "continue." Select "Startup Disk" and click the "Erase" tab. Select "Mac OS Extended (Journaled)," name your disk and click "Erase" to begin the format.