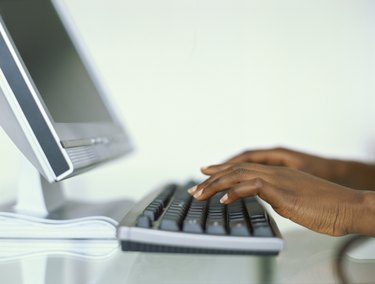 Like most major Web browsers, Google Chrome features a full-screen mode that lets you view more content on screen by removing the Windows taskbar and browser toolbars. If you want to exit Google Chrome or gain access to the taskbar, however, you must revert the Web browser back to its normal Windows mode. Google Chrome on Windows 8/8.1 can also act as a modern app that, like full-screen mode, prevents you from accessing the taskbar.
Exiting Full-Screen Mode
When running Google Chrome in full-screen mode, press the F11 key on your keyboard to instantly exit to windowed mode. The F11 key serves as a toggle to both enter and exit full-screen mode.
Alternately, move the cursor to the top of the screen, and then click the Exit Full Screen pop-up to get the same result. If you are running Google Chrome in Windows 8 mode, click or tap the Chrome menu button (three lines), and then select Relaunch Chrome in the Desktop to relaunch the browser as a normal desktop application.