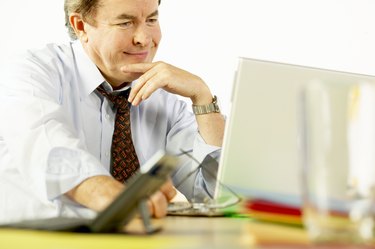 Data forecasting with a trend line is a practical method for determining future data values. Microsoft Excel 2010 lets you add a trend line to a chart in a spreadsheet to represent your data's current and future trends. Excel draws the two ends of the trend line based on your existing data values. You can access the trend line options in Excel to extend the line beyond the initial points to forecast future values of your data.
Step 1
Open Microsoft Excel 2010.
Step 2
Click the "File" tab and select "Open." Select your file and click the "Open" button.
Step 3
Right-click the trend line in your spreadsheet file and select "Format Trendline" from the menu.
Step 4
Locate the "Forecast" section under the "Trendline Options." Type a value in the "Forward" field to extend the trend line forward, and type a value in the "Backward" field to extend it backward.
Step 5
Click the "Close" button.