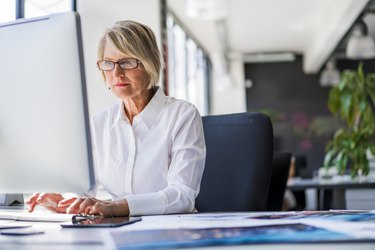 Changing the opacity, or transparency, of an image is one way to de-emphasize it and make it fade into the background. Microsoft Word is primarily a word processing application, but it does allow you to add a picture to a document and modify some aspects of the picture's display. There is currently no way to fade an image by modifying its transparency, but you can accomplish this effect and several others if you first add a shape to the page and then place the picture within the shape.
Adding a Shape in Word
To add a shape for a picture in Word, go to the "Shapes" menu on the "Insert" tab and select a shape that corresponds to the shape of the picture you want to add (square, rectangle, circle, etc.). Then click on the shape with your right mouse button and select "Fill" from the popup menu. Select "Picture" and then choose a picture from your computer or from a website. Alternatively, you can choose "Fill" from the "Format Picture" palette and select "File" under "Insert picture from." The picture will be displayed within the shape. If necessary, change the size of the picture to reflect the proportions of the shape.
Making the Picture Transparent in Word
Once the picture has been inserted within the shape, you can change its transparency from the "Format Picture" palette under "Fill." Adjust the transparency using either the slider or by entering a percentage in directly, using 100 percent to entirely make the image transparent. If desired, turn off display of the shape border by setting the "Line" to "No Line" under "Fill."
Set Transparency with Artistic Effects
Another way to make an image transparent in Word is by using the "Artistic Effects" feature under "Effects" on the "Format Picture" palette. A variety of predefined effects are available, such as "Blur" or "Glow Diffused," that can be applied to the entire picture. You can modify the transparency of the effect using a slider or by entering a percentage.
PowerPoint Picture Transparency
Another Office application, PowerPoint, offers a few more options when it comes to fading pictures. You still must first insert a shape and then add a picture in order to change the picture's transparency, but you can also add a picture to a slide as a background image and change its transparency using the "Format Background" feature. You can make this faded picture appear on the background of just one slide or on every slide in the deck. You can also add a faded background image to every slide from "View" under "Slide Master."