Microsoft PowerPoint offers tools to create informative, interesting and dynamic presentations. The program integrates a slideshow interface reminiscent of the concept used with projector slides. As a result, pictures are used in PowerPoint to facilitate visual communication. PowerPoint allows users to insert a background image with slides. Inserting and fading a background picture in PowerPoint can help hold the attention of viewers while not overwhelming text on a slide.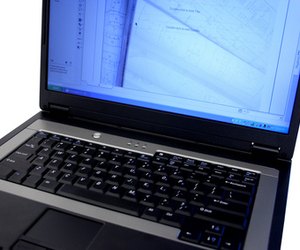 Step
Insert the picture by clicking the slide to which you want to add the picture, then click "Insert." Point to "Picture" and then click "From File." This opens the "Open" dialog box. Browse to the picture you want to insert and double-click it or click "Open."
Step
Right-click the inserted picture and click "Format Picture" from the pop-up menu. Click the "Picture" tab, then click the "Color" box arrow and select "Washout."
Step
Right-click the picture and select "Save As Picture." Save the picture in a location that can be easily accessed.
Step
Delete the picture from the slide by clicking the picture and pressing the "Delete" key on the computer's keyboard.
Step
Click "Format," then click "Background." Click "Background Fill," then click "Fill Effects." Click the "Picture" tab, then click "Select Picture." Navigate to the saved picture, click "Insert," click "OK" and then click "Apply" to insert it. The picture will appear as a washout, which looks faded in comparison to its original appearance.