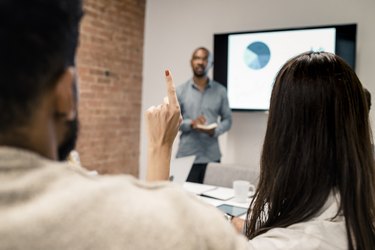 A presentation with boring slides is a sure way to lose an audience. The key to a powerful PowerPoint slide deck is the addition of visual interest. Use PowerPoint picture transparency to add a faded image or background that won't overwhelm other slide content.
Fade a Picture in PowerPoint
To add a picture to a slide and change its transparency, go to "Insert" and pick a shape from the "Shapes" menu, then use "Shape Fill" to place a picture of your choice within the shape. With the shape selected and the cursor within the shape's boundaries, click on the right mouse button and select "Format Picture" from the menu that pops up. "Transparency" is available under the "Fill" option. You can adjust the amount of transparency as a percentage, with 100 percent being fully transparent. Note that you cannot fade a picture that you insert directly on a slide without first adding a shape. When you go to "Format Picture" in this case, "Transparency" will not be available for "Fill."
Fade a Slide's Background
Add a background image to a slide by selecting "Format Background" from "Design." From the "Fill" options in the "Format Background" pane, select "Picture" or "Texture Fill" and then insert a picture from a file or a website. If you've recently cut or copied a picture, you'll also have the choice to add the picture from the system clipboard. Use the fading arrow to change the background picture transparency. If you click "Apply to All," the faded background will appear on every slide in the deck. Otherwise, apply the background image to the current slide only by closing the "Format Background" pane.
Add Faded Background to All Slides
You can also add a faded background image, or watermark, to every slide in your deck by going to "Slide Master" under "View." Select "Format Background" from "Background Styles." In the "Format Background" pane, use the "Fill" option to add a picture to the background and adjust its transparency. After clicking "Apply to All," every slide will have the same faded background. To remove the background image, go to "Format Background" and choose "Solid Fill" from the "Fill Options." Specify white as the fill color. The background image will be removed after you click on "Apply to All."
Use a Fade Transition
Having an entire slide fade as you transition to the next slide is an effective way to hold interest. Under "Transitions," you'll find a "Fade" option that automatically adds this effect to a slide. From "Timing," you can control the duration of the fade and apply the same fade to all slide transitions in the deck.