PowerPoint is designed to create presentation slides with a background that fills the entire slide from edge to edge. When you change the background of a slide from white to a color, pattern or image, you'll find that side, top and bottom margins are not added automatically as they are in Microsoft Word. There also isn't a command to adjust PowerPoint margins that would be similar to the Margins command in Word. There is a workaround, however, that allows you to achieve the appearance of margins by creating a custom slide format.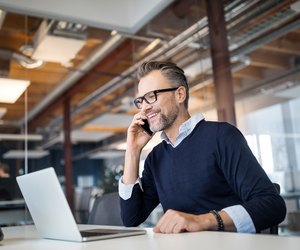 credit: Luis Alvarez/DigitalVision/GettyImages
Create a Custom Slide with Margins
Since there is no command for page setup in PowerPoint that will let you add margins, you can create a presentation that uses a custom slide layout to achieve the effect of margins. Start with a new Blank Presentation. Leave the background of the first slide white and use the Shapes command on the Insert tab to create a rectangle that fills the entire slide, except for the areas on the sides, top and bottom that you want for margins.
The rectangle will be the new background for your slide. Use Format Shape to Fill the rectangle with a color, image or pattern. Right-click on the rectangle and select Send to Back from the popup menu. Now you can create text boxes and other elements for the slide on top of the background shape. Copy this slide to create new slides with the same margins.
Page Layout in PowerPoint 2013
In PowerPoint 2013 and later versions, the closest thing to a Page Layout command is available under the name Slide Size on the Design tab in the Customize group. When you select Custom Slide Size from the menu, the Slide Size dialog displays. There is no control in the dialog for adding or adjusting margins in the dialog, but you can select from standard sizes like Widescreen and On-Screen Show (4:3), or you can specify the slide width and height in inches. You can also set the orientation of slides to Portrait or Landscape.
Margins Automatically Added When Printing
If you would like the printed version of your presentation to have margins, you don't need to do any extra work. Since most printers are not capable of printing to the edges of a page, PowerPoint automatically adds a white margin to each presentation slide when it's printed. You can view this margin in Print Preview before printing, but there is no way to adjust its size.
Adjust Text Box Margins
You can add margins to individual shapes and text boxes on a PowerPoint slide using Format Shape. Right-click on the shape or text box and select Format Shape from the menu. Select Size & Properties on the Format Shape panel. You can then specify exact dimensions for right, left, top and bottom margins. You'll see the margins take effect when text is added. If the box already contains text, changes to margin sizes will be applied immediately. If there's a risk of existing text not fitting in the box after margins are added, click on Shrink text on overflow in the panel and the size of your text will be reduced to fit within the box.