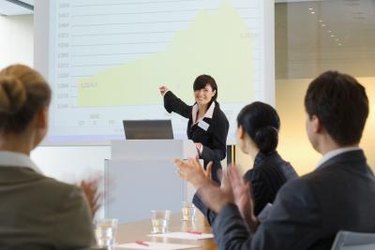 Microsoft PowerPoint lets you make presentation slides in a matter of minutes. With a point-and-click interface, you can organize graphics, text and embedded videos. However, some users might find the printing process less intuitive. If your slides print with an unwanted border, you can get rid of this unsightly feature with a few clicks, perfect for handouts or filing away as a hard copy.
Things You'll Need
Microsoft PowerPoint 2007 or 2010
Step 1
Open your PowerPoint presentation.
Step 2
Click the "Office" button in the upper left corner.
Step 3
Click "Print." A new window pops open on your screen.
Step 4
Click to deselect the "Frame Slides" box. When this box is checked, your slides are printed with a thin border. If the box is not checked, leave it alone.
Step 5
Click "Scale to Fit Paper" if you're concerned about white borders. Even with the "Frame Slides" button deselected, the slides automatically print within predefined margins, and they don't fill the entire page. Some printers are incapable of printing all the way to the edge, but scaling the presentation removes as much of the white border as possible.