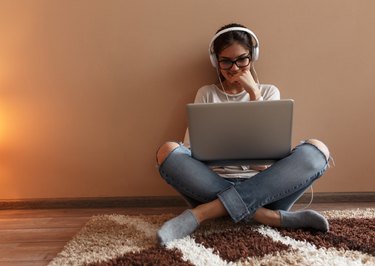 You can add more than plain colors to the backgrounds of your movie using Windows Movie Maker. Microsoft's free video editing software includes an option to insert photos, which you can use as a background to titles and credits, or to transition between video clips.
Step 1
Choose the background you want. Either find a photo or pattern on the Internet and download it to your desktop, or create your own picture with image software like Microsoft Paint (for very simple pictures), Photoshop (for professional art or photo touch-ups), or GIMP (a popular freeware equivalent of Photoshop).
Step 2
Make sure the image is in the correct file format. Movie Maker accepts most image formats, including JPG, PNG and TIF.
Step 3
Click the "Home" tab and select "Add Videos and Photos." Select the photo you want to use as a background and click "Open."
Step 4
Place titles or credits on top of the background image if desired by clicking "Titles and Credits."