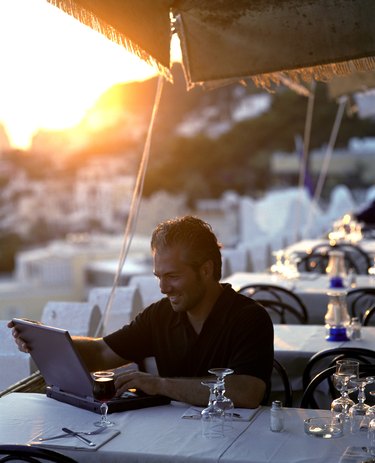 One way to inject a little humor into videos or photos is to add speech bubbles above the heads of people, animals or other creatures. Speech bubble graphics are found in many video and photo editing software packages as standard features, but it's not quite that simple with iMovie and iPhoto. However, you can create speech bubbles in other software and add them to iMovie and iPhoto projects.
IMovie Layering
Use the layering feature in Apple iMovie to overlay a still photo with a transparent background over a section of video. To do this, you'll have to have an image editor such as PhotoShop or Corel Draw to create the speech bubble. You can then save the image as a PNG file with a transparent background, import the image into iMovie and drag it over the section of video. When you try to drop it on to the video, you'll see a menu appear; select "Picture in Picture" to lay the image over the video.
YouTube IMovie
Create speech bubbles after you upload the video to YouTube. After upload, click your username, and then select "My Videos." Click the dropdown menu next to the video and select "Annotations." You'll then be able to add any number of speech bubbles to the YouTube video.
IPhoto Plug-ins
Like iMovie, iPhoto doesn't have a native tool for creating speech bubbles on photos. However, you can download a third-party tool that will allow you to do this or to make more sophisticated edits to iPhoto images. Free options include Seashore and The Gimp; other options include Comic Life and PhotoShop Elements.
Keynote Option
One other option available for many Mac users is to use Keynote to add a speech bubble to the iPhoto image. Keynote is part of iWork and is available on many Mac computers. To get started, create a new project in Keynote and then insert the image into a slide. Create the speech bubble and its accompanying text using Keynote's shapes and text tools. You can then export the project as a single image file.