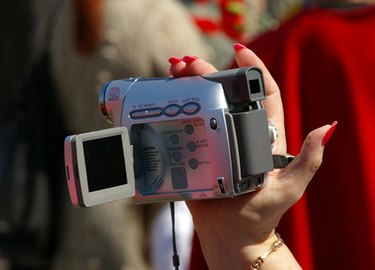 Making your own video allows you to be creative, adding touches like a soundtrack, special effects, titles and credits, and even different backgrounds from images or pictures you already have on your computer. If you have a PC running Windows, it likely came installed with Movie Maker, while Mac users will be able to find the program iMovie on their computers. Both programs have a slightly different process when it comes to adding backgrounds to your video.
Movie Maker
Step 1
Open Movie Maker under "Programs" on your PC, then open your video.
Step 2
Click "Import Media" and click the image you want to use as your background, followed by "Import." Click on the thumbnail of your image in the timeline.
Step 3
Click "Titles and Credits" in the pane on the left and click "On the Selected Clip." Enter the text you want, which will appear with your image as a background.
iMovie
Step 1
Open iMovie in "Finder" and open your video.
Step 2
Click the iPhoto tab and drag a photo up to your video timeline to use as a background, or click "Import" and "Import Pictures" in the toolbar if the image is not located in your iPhoto library.
Step 3
Click the "T" tab ("text") and find a template for titles, captions or credits. Drag the template up to the image in the timeline and enter the text. The image will appear as the background.