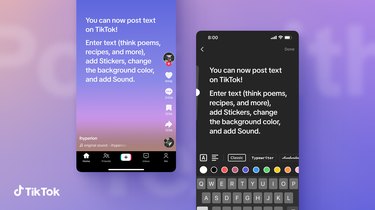 TikTok announced a new text-based format for posts that you can access with the existing photo, video, and livestream post options. The new feature will appear similar to Instagram Stories with a Twitter-esque vibe.
"Creators have been able to make content on TikTok across a variety of formats — from LIVE videos to photos, Duets to Stitch," TikTok wrote in a blog post. "Text is the latest addition to options for content creation, allowing creators to share their stories, poems, recipes, and other written content on TikTok — giving creators another way to express themselves and making it even easier to create."
To create a text post, on the camera page, you now have the option to choose text, which lets you type out a post and customize it with sounds, background, stickers, and all the other features that exist within photo or video posts. Text posts have a 1,000-character limit.
The announcement came shortly after Elon Musk officially rebranded Twitter to "X" this week, a confusing change that has left Twitter users even more baffled than they already have been since Musk took over the social media platform. Perhaps TikTok is hoping the remaining Twitter users will make their way over to TikTok if they haven't already.