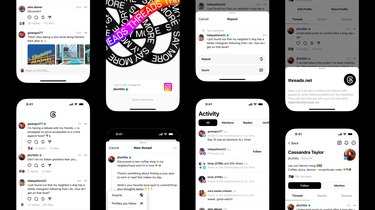 Meta just launched a new app called Threads, and it has the potential to put Twitter out of its misery. While there have been many Twitter-like platforms to launch in recent months, as the parent company of Facebook, Instagram, and WhatsApp, Meta has somewhat of a built-in audience for Threads and may have a leg up.
Threads will have a 500-character limit, and just like Twitter, users can reply, repost, and quote posts. The app will have a similar aesthetic to Instagram, so it'll be familiar and easy to navigate. Users can even share posts from Threads directly to Instagram Stories.
Threads accounts can be set to public or private, and those who have a verified account on Instagram will automatically be verified on Threads.
"The vision for Threads is to create an option and friendly public space for conversation," Meta CEO Mark Zuckerberg said in a Threads post following the launch. "We hope to take what Instagram does best and create a new experience around text, ideas, and discussing what's on your mind."
There are two ways to sign up. You can download the Threads app on your iPhone or Android and sign up from there, or you can go to your Instagram profile page, tap the three lines in the top-right corner to open Settings and tap Threads.
Users have to sign up through their Instagram accounts and keep the same username, password, and account name, but bios can be edited. When signing up, users have the option to follow the same accounts they follow on Instagram.
Where is the Threads app available?
Threads is available for iOS and Android in 100 countries and around 30 languages.