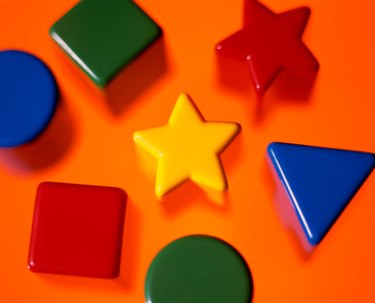 The Fill, Stroke and Live Paint tools provide methods of painting you can use to fill sections of shapes in Illustrator. Fills can be applied to open and closed shapes. The inside of a shape or object can be filled with a color, pattern or gradient. Strokes outline a shape. The stroke can vary in thickness (weight) or color. Objects that have been turned into Live Paint groups contain edges and faces. Edges can receive a stroke; faces can be filled.
Fill & Stroke
Step 1
Select the Rectangle Tool from the tools panel. Click on the artboard and the rectangle options window will open. Set the width and height at 5 inches to create a square, then select "OK."
Step 2
Use the Selection tool (black arrow) to select the shape. Choose the Fill tool (square with white or color fill), located near the bottom of the tools panel. It should appear on top of Stroke (square with double border). Select a color from the swatches panel. Instantly the center of the shape fills with the color.
Step 3
Choose Stroke from the tools panel while the square is still selected and apply a color. Increase the weight of the stroke to at least four points from the options bar located below the menu.
Step 4
Go to the "Object" menu and choose "Expand." Expanding the rectangle will make the fill and stroke separate objects.
Step 5
Choose the Direct Selection Tool (white arrow) and select the fill of the square. Remove the fill from inside the stroke to separate the two objects.
Live Paint
Step 1
Select the Ellipse Tool (grouped with the Rectangle tool) from the tools panel and create two circles. Allow half of each circle to overlap the other.
Step 2
Make the circles a Live Paint group. Use the Selection tool to select both circles. Go to "Object," "Live Paint," then "Make."
Step 3
Choose the Live Paint Bucket tool (paint bucket with three squares above it) from the tools panel. Hover the tool over the Live Paint group. The sections of the group will be highlighted.
Step 4
Use any of the keyboard arrows to select a color to fill the highlighted section. The three squares above the paint bucket show colors from the swatch panel. The active color will appear in the center square. Click on each section of the circle to fill with color.