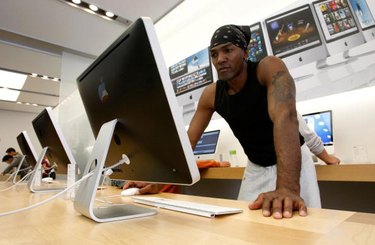 If you have the numerical IP address for a networked device on the Internet, such as a website or a computer that someone uses to connect to your computer, you might want to find out its domain name while using your Mac. For example, you might want to know the name of the Internet service provider used by someone who is connecting to your Mac as reported by your firewall. Every Mac comes with Network Utility, a free utility for looking up information about network connections.
Step 1
Click "Applications" in the Dock. Click "Utilities" and then "Network Utility." The Network Utility window opens.
Step 3
Type or paste the IP address into the "Enter an Internet Address to Lookup" box.
Step 4
Click the "Select the Information to Lookup" pull-down menu, and then click "Default Information."
Step 5
Click the "Lookup" button. The domain name of the address appears in the Network Utility main window.
Step 6
Click "Network Utility" from the Network Utility menu, and then click "Quit Network Utility" when you are finished.