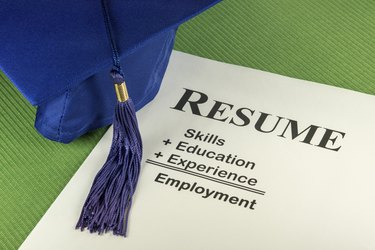 Using a template in Word 2013 can simplify the process of designing your resume. Microsoft Word comes with a selection of templates designed for various types of resumes, but if you're not satisfied with the default selection of resume templates, you can download others in Word.
Finding a Template in Word
To locate a resume template in Word, click the "File" tab and select "New." Scroll through the pre-loaded templates and select a resume template, or click your mouse in the "Search Online Templates" field at the top of the window and enter "resume" to search for others. Click a resume template to read information about it; to use the template, click "Create" to create a new Word document based on the selected resume template.
Identifying an Ideal Template
When choosing a template, consider both the information you want to highlight and your potential audience. Some templates highlight work experience, while others place an emphasis on education, for example. Some focus on objectives, while others place a summary of your skills at the top. If your resume is stronger in some areas than others, select a template that emphasizes those areas. Also remember that some designs are better suited to certain audiences than others. If you're applying for a white-collar job, pick a professional template; if you're applying for work in a relaxed environment, select a casual template.
Creating Your Own Resume Templates
Using Word, you can create your own templates for pretty much any application, including resumes. When creating a template, you can either design the document from scratch or modify an existing template. When designing a resume template from scratch, keep your contact information at the top, then introduce subsequent sections by degree of importance as you move down the page -- if you feel your education background is strong, for example, lead with it. After you create the template, click "File," select "Save As," double-click "Computer" and then enter an identifying name for your template in the "File name" box. Click the "Save as type" drop-down menu and select "Word Template."
Older and Third-Party Templates
If you have older resume templates from previous versions of Word, you can use them in recent versions as well. Microsoft has a Fix It tool designed to help you migrate older templates into Word 2013. Visit the Where Are My Custom Templates in Office 2013 Web page (link in Resources) and click the link below the Fix It For Me header.
Note that because anyone -- not just Microsoft -- can upload resume templates to the template directory accessible through Word, some of the templates you'll come across will work and look better than others.