Most applications use the Pictures folder in Windows 7, 8 and 8.1 by default to save images. Web browsers such as Mozilla Firefox and Google Chrome use the Downloads folder as a common location to save all downloaded content including images. You can also find all images on your hard drive by using the Search function in File Explorer (Windows Explorer in Windows 7).
Common Locations
Open File Explorer or Windows Explorer, and click Pictures on the left pane to view images saved by applications such as Paint and Internet Explorer. Select Downloads to find images saved by certain applications such as Mozilla Firefox and Google Chrome.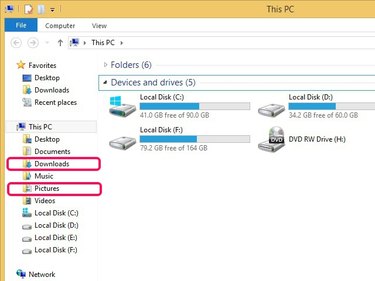 Search Entire Hard Drive
Click My PC on the left-pane in File Explorer, or Computer in Windows Explorer. Enter the command kind:=picture into the search box to search all partitions on your hard drive for images saved in JPEG, PNG, GIF and BMP formats. Right-click any image that appear in the search results, and then click Open File Location to get to the location of the image. You can also copy images to the Pictures folder by dragging and dropping the image to Pictures on the right-pane.