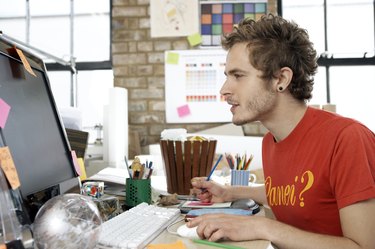 Compressing BMP files is a good idea if you want to share those files with others or save space on your computer. BMP (bitmap) files are uncompressed pixel-based images. While the file format enjoys universal support among Mac and Windows applications, the large file size makes it less than ideal for general use on both the Web and a local computer. Convert a bitmap image to a smaller file format, or archive it in a zipped folder.
Archiving
Step 1
Launch Windows Explorer or My Computer.
Step 2
Browse the computer folders until you find the BMP file to be compressed.
Step 3
Right-click on the BMP file once. Click "Send To" and then click "Compressed (zipped) Folders." Windows will create a ZIP archive with the bitmap file in it.
Conversion
Step 2
Click "File" and then click "Open." Locate the bitmap file to be compressed, and click "Open." Paint opens the file for viewing.
Step 3
Click "File" and then click "Save As." Click "JPEG" as the file format from the "Save as type" drop-down list. Type a file name for the new JPEG file. Browse to a different folder or use the current one. Click "Save." This converts the BMP file into a compressed JPEG image.