EBay has a messaging system, accessed through the "Contact" link on each user's page, that facilitates sending emails between users without revealing either party's actual email address. If you actually need to see a user's contact information, you can request it from eBay, but only if you have an open or recent transaction with that user.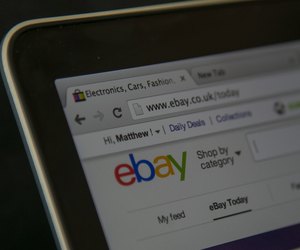 credit: Matt Cardy/Getty Images News/Getty Images
Send a Message on EBay
To email an eBay user, click the user's name anywhere you see it on eBay -- such as on an item page -- and then press "Contact." Pick an item from the drop-down menu, or type in an item number and press "Continue." If you visit a user's page directly from an item page, eBay skips over this step. Choose a topic, pick "No, I Want to Contact the Seller" and press "Continue." Alternatively, instead of choosing an item and topic, check "This Is Not About an Item" and click "Continue." Type your message in the box, fill in any requested info related to the topic you chose and click "Send." If the user writes you back, you'll see the reply both in your eBay messages inbox and in your email.
Request Contact Information
If you can't reach an eBay user by sending a message, use the Find Contact Information page (link in Resources) to learn the user's full contact info, which includes a name and phone number. Unlike sending a message, you must provide the item number of an item you bought or sold from the other user. When you request another user's contact info, eBay also sends your contact info to that user.