Microsoft Word 2013 automatically adds metadata, such as the document's creators and the time the document was composed or edited, to documents. You can choose to manually add metadata to a document, including titles, tags and comments. To discover what metadata is attached to a document, go to the Info tab or inspect the document to view or remove this data.
View Metadata
Step 1
Click the File tab to open Info and Document Inspection options.
Step 2
Click the Info tab and choose Show All Properties to expand the current list of data.
Step 3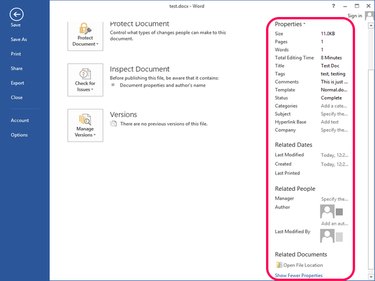 Locate the metadata entries on the right.
Tip
Many metadata entries can be edited by clicking or right-clicking the entry. However, some entries cannot be removed unless you choose to remove all metadata information.

In the Info pane, Click Properties to reveal a drop-down menu and select Advanced Properties to open a dialog box containing this metadata and additional statistics.
Remove Metadata
Step 1
Click Check for Issues in the Info tab and choose Inspect Document.
Step 2
Choose Yes from the warning dialog.
Warning
Inspecting the document could result in the removal of unrecoverable metadata, so save a copy of your document before proceeding.
Step 3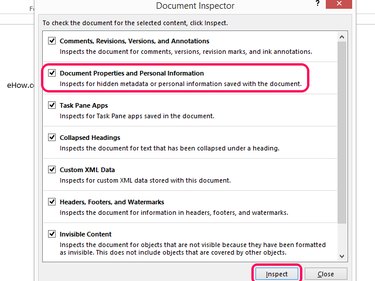 Check Document Properties and Personal Information in the list of options and click Inspect.
Step 4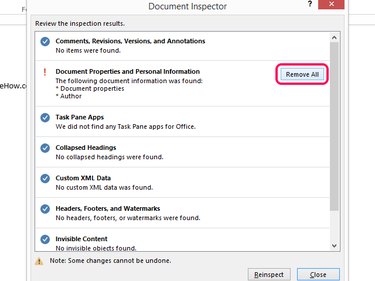 Click Remove All to delete all metadata.
Warning
The inspector only lists certain metadata as an example in the results, but it will remove more than what it lists. It describes Document Properties and Personal Information as "Document properties" and "Author," but title, tags, comments and status are also removed when you select Remove All..