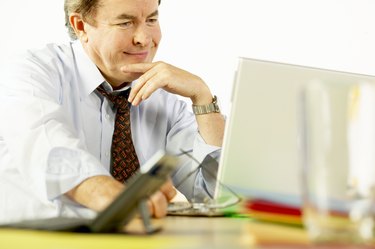 With Adobe Acrobat, you can create PDF files from scratch or by converting electronic documents of many types to PDF. PDF files retain the formatting, content and document information of the original files and can be viewed on almost all platforms, allowing for greater ease for consistently sharing electronic information. You also can modify PDF files in a number of ways, such as annotating and marking up PDF files; for example, you can highlight text, draw shapes and add sticky note comments. Additionally, you can print a PDF with sticky note comments.
Step 1
Open the PDF in Adobe Acrobat, click "Edit" and choose "Preferences." The Preferences dialog box appears.
Step 2
Click "Commenting" in the Categories pane.
Step 3
Select the "Print notes and pop-ups" in the Viewing Comments pane.
Step 4
Click "OK" to close the Preferences dialog box.
Step 5
Click "File" and select "Print." The Print dialog box appears.
Step 6
Select the printer to which you want to print the PDF.
Step 7
Select "Document and Markups" from the Comments and Forms drop-down box.
Step 8
Configure other printing options, as appropriate, and click "Print" to print the document with sticky note comments.