Some links to different areas of Yahoo Mail are not as clearly labeled as others. Although your address book, or Contacts area, is accessible from any screen, the link to it isn't on the top navigation bar or the left navigation column. Instead, it's among the integrated services navigation tabs.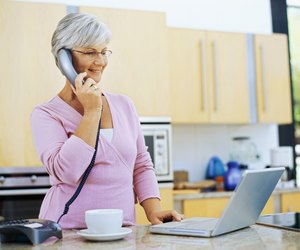 credit: George Doyle/Stockbyte/Getty Images
Find Contacts
The six tabs for Mail, Contacts, Calendar, Notepad, Messenger and News Feed, respectively, are located below the Yahoo Mail logo near the top-left corner of any screen. The Contacts tab is labeled with an address book icon decorated with a people icon. A pop-up Contacts text label also appears when you roll your cursor over the tab. After you click the tab, the left navigation column and middle of the screen change into the Contacts area.
Contacts Features
You add new entries manually or import another electronic address book. Beyond name, address, email address and phone details for one or more people, you can record job titles, employer names, birthday and/or anniversary dates, website URLs and notes. Additionally, you can create a list of contacts to email a group of recipients faster. Whenever you select an existing contact, the address book also displays emails and photos received from that contact below the entry.
Faster Access
You can also access your address book in one step. Open Contacts and then click and drag the URL from the address bar to your browser's Bookmarks bar to create a bookmark. The next time you need to quickly locate contact details or add a new contact to your address book, click the bookmark. Yahoo Mail opens and automatically switches from the Inbox to the Contacts screen.