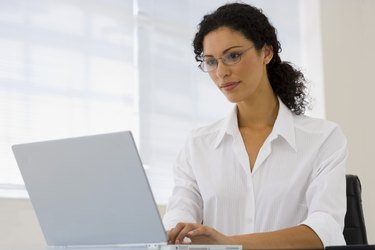 The proxy server acts as a mediator between the client machine and the main server. Requests sent from the client machine are first routed to the proxy server. These requests are then validated based on a series of filters. If the request is valid then the proxy server allows the client machine to retrieve the information from the source requested. Some of the uses of a proxy server are to restrict users from visiting specific websites, scan outbound content or restrict file and folder access depending on the client machine's security level.
Internet Explorer
Step 1
Open the Internet Explorer browser.
Step 2
Click on the "Tools" down arrow, and select the "Internet Options" option.
Step 3
Click the "Connections" tab.
Step 4
Click the "LAN settings" button. The "Local Area Network (LAN) Settings" window will open. The proxy port number will be in the box labeled "Port."
Firefox
Step 1
Open the Firefox browser.
Step 2
Click the "Tools" menu and select the "Options…" option.
Step 3
Select the "Advanced" icon.
Step 5
Click the "Settings…" button. The "Connection Settings" window will open. You can find the proxy port number in the "Port" box next to the "HTTP Proxy:" section.
Tip
Proxy numbers are utilized when in a LAN setting. Unless the user has a specific home network, there will be no use for the proxy port number on home-based computers.
If you are an advanced Linux user and want to be able to set the proxy utilizing Squid, see the "Resources" section of this article.