Look for old magazine content online at Google Books and on individual magazine websites. Fnd digital, print and microfilm versions of back issues at libraries. If you're willing to pay, you can order used back issues online.
Finding Back Issues Online
Using Google Books
Go to Google Books to read digital back issues of many magazines online.
Step 1
Visit the Google Books Magazines website to see the list of magazines available. If you see a magazine that interests you, click on its title.
Step 2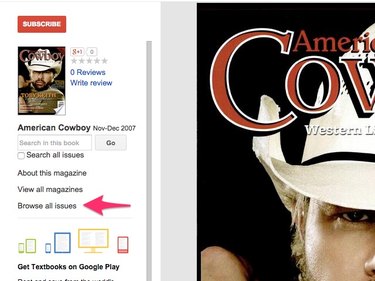 To see which digital back issues of the magazine are available, click Browse All Issues.
Step 3
In the Issues menu, click on the cover of an issue.
Step 4
Click Preview This Magazine to see the page-by-page content of the issue.
Step 5
Use the Search Inside button to search for a particular word or phrase within the magazine back issue. To search all back issues of the magazine archived by Google Books, check the Search All Issues box.
Using Magazine Websites
Many magazine websites have extensive back issue content online through their mobile apps or websites, though some magazines limit certain content to paying subscribers.
Check the app or website of a magazine to see what content is available with and without a subscription.
Using the Library
Many public libraries, as well as libraries at colleges and other institutions, have back issues of magazines available to browse on site, view on microfilm or microfiche, or check out to take home.
You can search the catalogs of many libraries through the online database WorldCat. If your local library isn't listed in WorldCat, visit its website, go by the library or call.
Some libraries subscribe to databases such as LexisNexis, JSTOR and EBSCOhost, which provide online access to magazines, newspapers and academic journals. Contact your library to see if this service is available.
Paying for Back Issues
If you're unable to find the back issues you want to read for free, you may be able to purchase them.
Ordering From the Publisher
Many magazine publishers offer back issues for sale through their websites and over the phone. Contact any magazine to inquire about the available options.
Ordering From Third Parties
You can purchase back issues of magazines from third-party vendors. Look for magazines for sale on marketplace sites like eBay and Amazon.com or through the bookstore sales site AbeBooks.com.