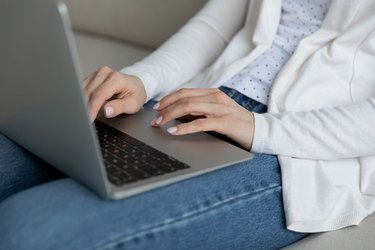 When you're trying to track someone down, generally the more information you have, the better. You can search for someone by just first name and city, but if you can find someone by first name, city and age, that's even better. To conduct a people search, it's best to start with social media first, then expand to Google and paid directory services.
Find Person by First Name and City

If you're trying to find a person by first name and city, one of the best places to start is social media. Go to the platform the person is most likely to frequent and search by first name, narrowing it to city. Obviously, this works best if the person has an unusual name. If you're looking for John, Mary or Bob in a city of tens of thousands, you may have a challenge on your hands.
All is not lost, though. You can easily search for someone using Facebook's advanced search functionality. Simply input the first name in the search box at the top of your Facebook feed. When the results pop up, click on Choose a Location on the left panel. Select the People tab and you'll get a list of people with that first name in your city, with friends and friends of friends listed first.
Find Someone by Mutual Friends
When your goal is to find a person by first name and city, one great social media option is to try to track down mutual friends. This won't be very helpful if you don't travel in the same social circles, but even if you're from the same town, you'll often find that you have some Facebook friends in common.
It may be easier to try to find someone by first name, city and age. Knowing the person's approximate age will help you narrow down potential mutual friends. At the very least, you'll be able to quickly dismiss some of the search results based on the picture.
Although Google search may be your go-to when you're trying to track down information, looking for a person using a first name and city can be an exercise in futility. If the person has an unusual name, the process may be easier, but otherwise, it will feel like looking for a needle in a haystack. Any additional information you have can help narrow your search, including workplace, schools attended or organizational memberships.
There are plenty of tools that can help you find a person by first name and city. Some of the best include US Search, PeopleFinders, Intelius and Instant Checkmate. With most of these sites, you'll get enough information to make sure it's the person you're searching for, but to get further details, you'll need to make a payment.
Find Someone Using an Image
As challenging as it is to find someone by first name, city and age, if you have a photo of the person, you can give yourself a good head start on the search process. Google search has a built-in image-search tool to help you track down a person using just a picture. If a similar picture exists out there, you may be able to track the person down using Google Image Search.
To search by image, enter images.Google.com into your address bar. Instead of entering text, as you would during a typical Google search, you click on the camera in the search bar and choose the tab that reads Upload an image.
It's important to note that Google's facial recognition technology isn't quite as sophisticated as it likely will be someday. There are other tools that may yield better results, including Yandex, TinEye and PimEyes. You can also try Bing Image Search and Pinterest Image Search. Ideally, the image will lead you to the information you need on the person.