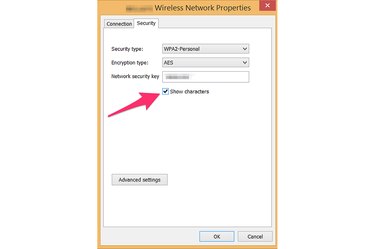 Whether you're setting up a new device on your Wi-Fi network or giving a trusted guest access, Windows 8.1 offers a fast way to access your Wi-Fi password. Normally, your password is hidden, but you can make it visible with just the click of a check box. While this may seem like a security hole at first, it really isn't. No one can get your Wi-Fi password unless he's already hacked into your Windows password.
Step 1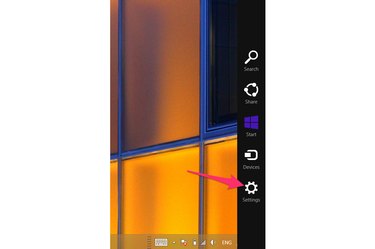 Go to the Windows Start screen by pressing the "Windows" key. Move the cursor upward from the bottom right corner of the screen and select "Settings."
Step 2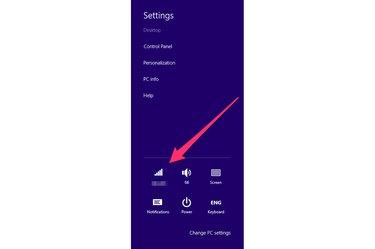 Click the "Network" icon if you're not already connected to the Wi-Fi network you want to use.
Step 3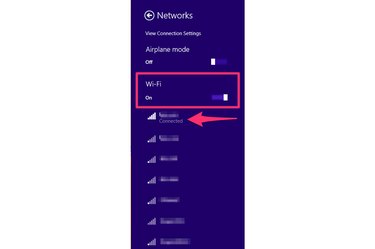 Turn on Wi-Fi if necessary by clicking the "Wi-Fi" On/Off switch. Select the Wi-Fi network from the list that appears. Tap anywhere on the Start screen to close the Settings sidebar.
Step 4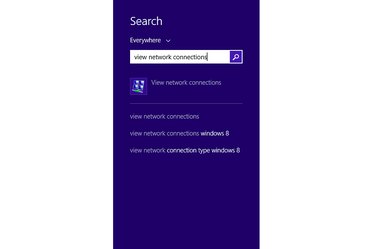 Click the "Search" icon beside your username, type "view network connections," and then select the "View Network Connections" option that appears at the top of the search results.
Step 5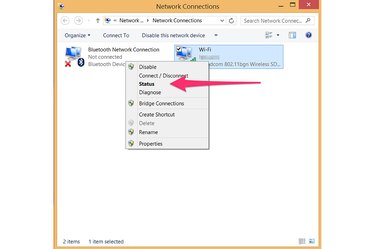 Right-click the "Wi-Fi" network and select "Status" from the drop-down menu to open the Wi-Fi Status window.
Step 6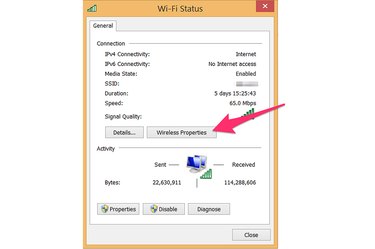 Click the "Wireless Properties" button in the Wi-Fi Status window.
Step 7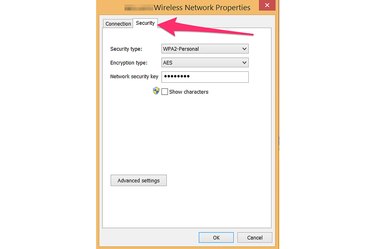 Click the "Security" tab. Your Wi-Fi password is in the Network Security field, but the characters are hidden from view.
Step 8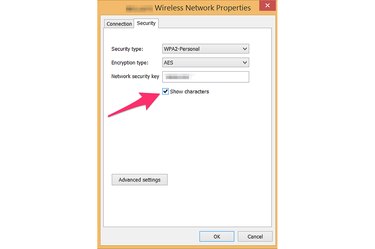 Click the "Show Characters" check box to reveal your Wi-Fi password. Click "Cancel" after you've retrieved this password to keep your password hidden.
Tip
If, for some reason, your computer isn't connecting to the Wi-Fi network with the correct password, check the documentation that came with your Wi-Fi router to find it. If you bought the router from your Internet Service Provider, the password is often on the bottom of the router. Look for the letters "WPA" or "WPA2," or words like "Security Key" if the password isn't obvious.
If you set up the Wi-Fi password yourself, log in to the router with your admin username and password to change the Wi-Fi password. If you can't remember your admin password, go to the manufacturer's support website to find the default password. If this doesn't work, you'll have to reset your router.