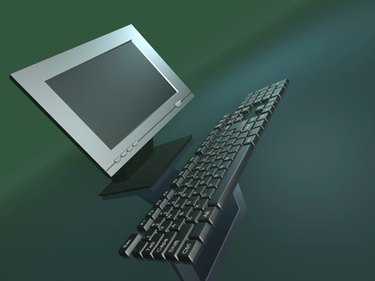 The Bose Companion 3 speaker system produces dynamic audio output for your computer's media outlets (music, DVDs, video, Internet). Included in the system are two table-top speakers, which can also be mounted, and one acoustic module, which can be placed on the ground. Once you've set up your system and begun using it, you might experience sound malfunctions, which can be easily adjusted with some maintenance. You'll want to confirm that your system is functioning correctly before working on projects or watching videos with friends.
No Sound
Step 1
Unplug the AC power cord from the "AC Input" jack on the back of the acoustic module and the AC wall outlet to reset the connection. Inspect the cord for dents, frays or cuts. Replace the cord if it's damaged.
Step 2
Unplug the left and right speakers from the left and right jacks of the "To Speakers" section on the back of the acoustic module. Examine the cords for frays, and plug the left speaker firmly into the "L" speaker jack and the right speaker into the "R" speaker jack. The connections should be solid and not loose.
Step 3
Unplug the control pod from the "To Control Pod" jack on the back of the acoustic module, wait a few seconds, and plug the pod back in. Turn the volume up on the pod by turning the pod dial clockwise.
Step 4
Push the top of the control pod to unmute the system. You will see the LED light on the face illuminate green when the system in active. Unplug headphones from the headphone jack — the system is unable produce sound when headphones are inserted.
Step 5
Click your volume control icon in the lower-right corner of your PC display, select "Options," and access your sound card settings. Turn the "Digital Output Only" setting to "Off."
Distortion in One or Both Speakers
Step 1
Click your volume control icon on your computer, and lower the volume (especially if the volume is turned completely up). Raise the volume on the control pod.
Step 2
Unplug the speakers from incorrect jacks and reinsert them into the "To Speaker" jacks. The left speaker cable should be inserted into the "L" jack, and the right speaker cable should be inserted into the "R" jack.
Step 3
Examine each speaker (including the acoustic module) for frayed or damaged wires. If the wires are damaged, discontinue use of the system and replace the wires.
Step 4
Swap the speaker connections in the "To Speaker" area. If the issue switches to the other speaker with the swap, the output channel from your sound source might be malfunctioning. Connect a different source to your acoustic module. If the same speaker is still emitting distorted sound or no sound, the speaker is damaged. Contact Bose customer service at 1-800-999-2673.