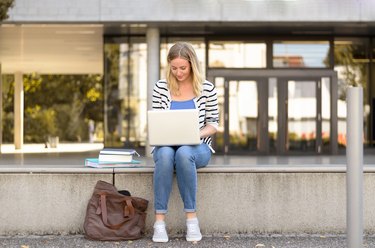 Windows computers crash and stop responding when there are system errors caused by spyware, viruses and Trojans, improper system changes and registry errors. Programs become unresponsive within minutes after launching them; others become unresponsive when using them over a long periods of time. When a program becomes unresponsive, it displays the dreaded "Program Not Responding" message, and as a result, slows down computer speed and performance. Simple measures, such as defragmenting your system, cleaning the registry and removing viruses, can solve common program freeze problems on your computer.
Step 1
Launch your antivirus program and click the "Update" button to install any virus or spyware definition updates. If you do not have an antivirus program, download and install AVG Anti-Virus free (see Resources).
Step 2
Perform a full system scan and delete all detected files. Close your antivirus program
Step 3
Run a registry cleaner. If you do not have a registry cleaner, download and install CCleaner free (see Resources).
Step 4
Launch your program after it has installed and click the "Registry" button on the left panel. Click "Scan for issues." CCleaner will scan for missing .dll files, leftover registry values from uninstalled applications and more.
Step 5
Click "Fix selected issues" when the scan is complete and click "Yes" to back up and save the registry. Click "Fix all selected issues" and click "OK" to remove unnecessary registry entries and repair corrupt ones.
Step 6
Defragment your computer system to allocate scattered files. To defragment your computer system, click the Windows "Start" button and click "All Programs."
Step 7
Scroll up and select "Accessories." Click "System Tools" and click "Disc Defragmentor." Click on your computer hard drive and click "Defragment."
Step 8
Uninstall and reinstall your program if it is not responding every time you use it. To uninstall the program, click the Windows "Start" button and click the "Control Panel." Double-click "Add or Remove Programs." Click the program you want to uninstall and click "Remove/Uninstall." Click "Yes" to confirm and uninstall the program.
Step 9
Insert your installation disc for your program into the CD-ROM drive on your computer and reinstall it. If you have to reinstall the program by a website download, navigate to the website you used and download the program.