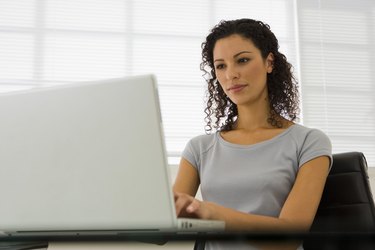 If you're receiving an Internet Explorer error when attempting to load a web page, the problem may indicate an issue with that website's host, with your Internet Service Provider, with your network, or with your software. Before performing any of these troubleshooting methods, determine if the problem is local or global. Visit a popular website to see if it loads. If it does, the problem is with the first website. Try to load it again later. If you cannot reach any websites, continue with troubleshooting methods.
Step 1
Reset your modem or router by turning it off. If you have an internal modem, skip to Step 2. If your modem is plugged into your router, disconnect the cable that links the device, and shut down your modem. If your devices do not have power switches, unplug them from the power outlets.
Step 2
Shut down your computer. Wait 30 seconds, then reconnect and power up the router and/or modem.
Step 3
Restart your computer. Visit the web page again. If Internet Explorer does not display the site, proceed with Step 4.
Step 4
Delete temporary Internet files by clicking on "Tools" in the menu bar. Select "Internet Options" (Internet Explorer 6 and 8) or "Delete Browsing History" (Internet Explorer 7).
Step 5
Click "Delete" under the "Browsing history" header (Internet Explorer 8); check every option except for "Passwords" and "Preserve Favorites website data." Click "Delete." Check all items in Internet Explorer 7. Click "Delete." Click on "Delete files" in the "Temporary Internet Files" section in Internet Explorer 6, then select "Delete all offline content." Click "OK." Click "Clear history" in the "History" section, then click "Yes."
Step 6
Visit the web page again. If Internet Explorer does not display the site, proceed with Step 7.
Step 7
Click on "Tools" in the Internet Explorer 7 or 8 menu bar, then select "Internet Options."
Step 8
Click the "Programs" tab. Choose "Manage add-ons."
Step 9
Highlight and "Disable" an add-on, then click on "Close" and "OK."
Step 10
Continue this process until you have tested all add-ons. Continue if Internet Explorer does not display the web page.
Step 11
Close programs that you do not require to browse the Internet. Hold down "Ctrl" + "Alt" + "Del," then select "Task Manager."
Step 12
Highlight an unneeded program in the "Applications" tab, and click "End Task." Repeat until you've closed all unneeded programs.
Tip
If you do not have the latest version of Internet Explorer, upgrade the web browser and install all security patches and hotfixes through Windows Update. There are several different web browsers. Download another and try to visit the web page in one of them. Your Internet Explorer installation may be damaged and may need to be reinstalled.