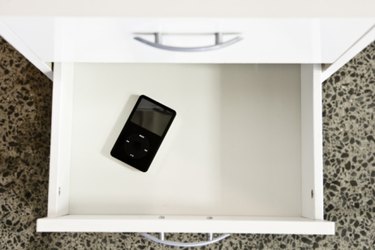 You've clicked and clicked and clicked some more, but iTunes just refuses to launch. A nonresponsive program is frustrating to any computer user, but especially if all you want to do is listen to some music or download a new album. If iTunes isn't opening, there are many possible causes for this error. None of these fixes will affect your current music collection. Though you may need to tweak or reinstall some software, your MP3s will stay right where they are.
Step 1
Confirm that your Apple device is connected securely to your computer. If you are not trying to access iTunes via an Apple device, or if your device is connected correctly, continue to step two.
Step 2
Configure your firewall to allow iTunes to connect to the Internet. Many firewalls block software programs' ability to get online as a security precaution. This is because some spyware and malware is designed to transmit personal data from your computer. Making iTunes a trusted program within your firewall software is necessary for it to function properly.
Step 3
Create a new iTunes library file. An unstable or corrupted library file can cause iTunes to suddenly quit or not open at all. Recreating a library file is a lengthy process that depends heavily on the operating system you are using. See the iTunes Support page under Resources for detailed instructions.
Step 4
Reinstall iTunes on your computer. If no other troubleshooting steps are successful, then the fastest way to solve the problem is to start from scratch.