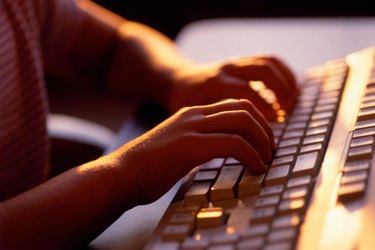 The role of a device-driver is to allow communication between software and hardware. A hardware driver also provides the configuration information so that your operating system can provide communication to all features of your device. If a problem occurs within your device driver, the operating system will not be able to send data streams to your device. Generally, when a problem occurs with your device or driver the Windows Device Manager will display an error code. Receiving a code 10 for the IDT High Definition Audio CODEC suggests Windows is simply unable to communicate with the device, preventing the hardware from even starting. This is often caused from having the wrong driver installed. You can repair this problem by updating to a compatible driver.
Step 1
Press the "Windows" and "R" keys on the keyboard simultaneously. This opens a "Run" dialog at the bottom-corner of your screen.
Step 2
Type "Devmgmt.msc" in the "Run" dialog and click the "OK" button. This loads the "Device Manager" in a new window on your screen.
Step 3
Double-click "Sound, Video and Game Controllers" to expand the list of audio devices.
Step 4
Right-click "IDT High Definition Audio CODEC" and click "Update Driver Software." This opens a "How do you want to search…?" dialog window.
Step 5
Double-click "Search Automatically for Updated Driver Software." Your computer will first search the Windows directory on your hard drive for a valid driver. If a valid driver is not found on your hard drive, the computer will automatically connect with the Microsoft Update server to download a compatible driver.
Step 6
Click the "Close" button when notified Windows finished updating your hardware and restart your computer.