The auxiliary, or AUX input, is a common input channel for TVs. Video sources using cables connected to the AUX receptors, typically on the back or side of the TV, can be viewed by changing the TV to the AUX input, using the remote control. With TV manufacturer's accommodating newer technology by increasing the number of inputs, there may not be an input option for AUX on all TVs. Inputs may be broken down into options for HDMI, component, AV, TV and other connections as well.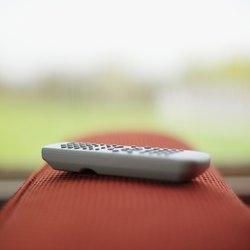 Step
Press the "Input" button your TV's remote control.
Step
Navigate using the directional buttons to the "AUX" input.
Step
Press "OK" or "Enter," depending on the TV, to view the AUX input on your TV.