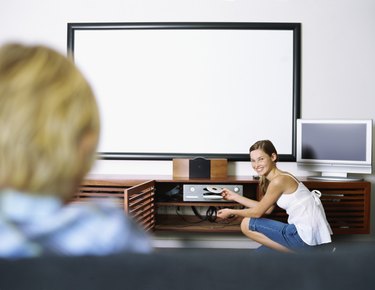 The simplest way to connect a television with a DVD player and a satellite receiver is to attach both devices directly to the TV's audio/video jacks using standard sets of composite cables with RCA-type plugs on the ends. An AV receiver would ordinarily be used to manage the signals from different components, such as a satellite receiver, DVD player, VCR, turntable and other equipment, but if only a DVD player and satellite receiver will be used, each can be wired independently of the other for enjoyment with the television.
Step 1
Connect a set of composite cables to one of the AV "IN" jacks on the back of the TV, using the yellow plug for the video connection and the white and red plugs for left and right audio. Most television sets are equipped with at least three sets of AV jacks for connecting DVD players, video game systems, satellite and cable receivers, VCRs and other devices, so make a note of which set of inputs are used for this first connection. For example, the plugs might be jacked into Input 1, 2 or 3.
Step 2
Insert the plugs on the other ends of the cables into the AV "OUT" jacks on the back of the DVD player, using the same color-coded connections.
Step 3
Connect a second set of composite cables to the AV "OUT" jacks on the satellite receiver.
Step 4
Attach the other ends of the cables to a free set of AV "IN" jacks on the back of the TV.
Step 5
Press the "Input" button on the TV remote control to select between the inputs connecting the satellite receiver for enjoying programming, and the DVD player for watching and listening to discs.